V.I.P. Concert with Eric Andersen - Thursday 3rd September, Newstead Abbey Hall
A very special night's entertainment with legendary folk artist Eric Andersen (read his notes down below), with all proceeds going towards the restoration of Japanese Panels at the Abbey. You will be welcomed with a Champagne reception, watch Eric Andersen perform his set and get a guided tour of the Abbey!
Tickets are now on sale for only &pound40 per person - with just 100 tickets available.
Please send cheque's made payable to "The Robin Hood Folk Festival Ltd" along with your contact details to:
Robin Hood Folk Festival Ltd
Unit A Derby Road Trade Centre,
Sandiacre,
Nottingham,
NG10 5HU
Alternatively if you could get in touch by email and send your payment via a bank transfer to Sort Code: 40-19-15 Account: 14307569
Get in touch - contact@robinhoodfolkfestival.co.uk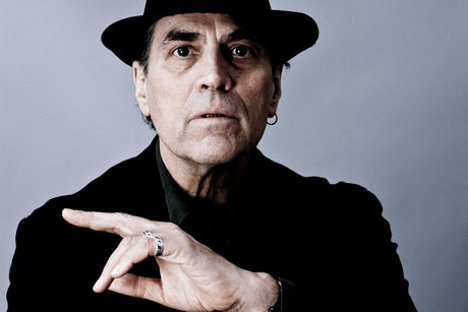 Lord Byron was an original. Rock 'n' Roll's first rebel legend -- Bad Boy - Numero Uno. With tossled hair'd to boot.
His works and life were so controversial he had to flee the country. Byron totally invented his own original persona. And it came easy to him as he was a born leader (in addition to being a genius poet). One might say he wrote the celebrity-scandal handbook before such names as Casanova, Arthur Rimbaud, James Joyce, D.H. Lawrence, Josephine Baker, Marlon Brando, James Dean, Elvis, Jim Morrison, Lou Reed, William Burroughs, Iggy Pop, and Miley Cyrus, and any future ones rolled up into one ... and eons before any of them we're ever dreamed of. The lord Byron was everybody's hero lover and warrior & nightmare. The day after his first masterwork The Childe Harold" was published he said, "I awoke one morning and found myself famous!" And was he ever! A new world of poetry and celebrity-hood was given birth and was ushered in.
Byron shamelessly and single-handedly built the door of celebrity and blithely tossed away the key. In his day he remained unsurpassed as a lover as he was in other capacities (note: Don Juan). Beside controversies he spawned resulting from loving many women, being gay (a crime punishable by hanging at the time), and loving and possibly having a daughter with his beloved half-sister Augusta, he continually fought for freedom with dignity and without judgement.
One lover, Carolyn Lamb (wife of the future Prime Minister William (under Queen Victoria) described him as, "mad, bad, and dangerous." One could say Byron personally invented the concept of celebrity-hood and scandal.
In the London of 1811, rumours of his scandalous and outrageous behaviour were making the rounds. London tongues wagged with such ferocity about his every move they almost flew out of people's heads. During England's war with France he supported Napoleon and gave away busts of the emperor's curled head as mantel pieces to his friends. He built and travelled in a carriage modelled after the French leader. He was also an ardent student and supporter of the American and South American revolutions.
Despite this, the British public lined up for his new works with the same fervor fans in more modern times awaited the release of a new Beatles album. But above all, it must be remembered, he always spoke truth to power and stood for liberty and freedom, and few could argue, as with all other aspects of his life, including his reputation as curious lover, the Lord Byron literally laid his body on the line.
As landed gentry and a lord in the House of Lords, Byron also found himself defending the causes of the downtrodden, the poor, and the exploited.
History reports he risked his life for the causes of freedom in both Italy and finally in Greece. He spent his personal fortune arming the Greek freedom fighters in his attempts to liberate Greece and its cultural legacy from the Ottoman Empire to save democracy and her towering poetical traditions. Battles, we might add, that are still being fought today as northern and southern cultures clash. Time tells us that most great poets are seers who live with one leg in the future.
He died in Missolonghi, Greece, of a fever at the tender age 36. That was year 1824. And note: despite his genius, his ground breaking, insightful, prescient poetical works, he remained so controversial he was not granted a place in the Poet's Corner in Westminster Abbey until 1968, one hundred and forty-five years after his death. The final resting place of Wordsworth and Chaucer. That could be considered still a too-hot-to-handle, prudishly odd, controversial topic. Heading into the 21st Century, Byron still representing everything taboo in hypocritical British life.
My job for this project is to put some of his poems to new music and write new original songs in the same poetical formats he wrote in the Childe Harold and Don Juan -- a more than exciting task for a songwriter fresh off the discoveries and labors of Albert Camus two years ago. I see it as an important intersection of poetical history.
The purpose of this televised and recorded charity event will be to raise money to repair the roof where it was leaking in the exact same place it leaked when he was living there in 1810. And to repair the Japanese wall screens in his ancestral home of Newstead Abbey.
The peripatetic poet moved around a lot and was not one known to gather moss. It could be said truly that Byron was Rock 'n' Roll and Poetry's first genuine rolling stone.
- Eric Andersen